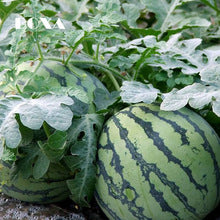 Sugar Baby Watermelon
$ 2.50
70 days.  Early, 6 to 10-lb melons are great for the North and have sweet, deep red flesh.
Extremely productive plant turning out loads of sweet, small organic melons perfect for the family of four.  This is the small gardener's dream, where as most melons take up lots of space for just a few melons this Sugar Baby will give you loads of fruit in a small space. 


Contains 20 heirloom seed
Related Products
Cute and sweet
My grandson loved the size (he's 6) He had them picked out for each person in the family..so cute. These baby watermelon were the size of a small cantaloupe and sweet all the way to the skins...even the rind was sweet. I couldn't believe it. I now understand pickling rinds. They did have quite a few seeds but they were mostly soft and edible. They did tend to be picked a little early with the little one helping but we ate every one and never had a complaint. Growing again .
Too many seeds
Beware that sugar baby has lots of seeds. I'm sticking with Crimson Sweet which has less seeds and is twice the size.