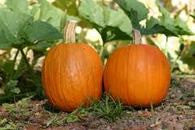 Small Sugar Pumpkin
$ 2.50
100 days. Sometimes called New England Pie Pumpkin.
The long time favorite and standard for pies.  None grows any sweeter.  Fruits small, 6-8 lbs; round, flattened at the ends and a good keeper.  Skin is deep orange, smooth but plainly ribbed.  Flesh is thick, deep yellow, fine grained and has a deliciously sugar flavor.


Contains 15 heirloom seeds 
Related Products
Nice little sweet pie pumpkin
I grew these 2 years ago and they were very nice. I grew in a raised bed with 2 feet per plant. The 2 plants produced 5 pumpkins. This year I'm giving each plant 2 square feet each so they'll produce a few more.