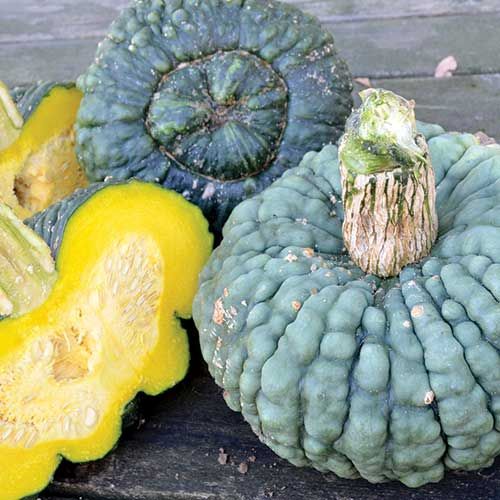 Marina Di Chioggia Squash
$ 3.00
110-120 days. Marina Di Chioggia Squash known as "Chioggia Sea Pumpkin", "Zucca Barucca" and "Zucca Santa"

This heirloom winter squash comes from the small Italian seaside village of Chioggia.
Marina di Chioggia has long been a staple squash in Venice, Italy where it is also known as Suca Braca, or warty pumpkin, in the Venetian dialect. It is mentioned in the play Le Baruffe Chiozzotte, written by the eighteenth-century playwright, Carlo Goldoni and depicts the townspeople of Chioggia fighting over the squash.

Squash averages 10-12 pounds.
Mariana Di Chioggia has dry, sweet flesh that is traditionally used in gnocchi and ravioli, but can be used in soups as well.  Excellent keeper.
Contains 15 heirloom seeds
A little history:
Squash of Cucurbita maxima are believed to have made their way to Italy via explorers returning to Spain from South and Central America.
By the late 1600s, the unique looking Marina di Chioggia was known as a Venetian squash, and its name was given after the seaport fishing village of Chioggia at the southern tip of Venice where it has long been popularly grown and sold
Related Products