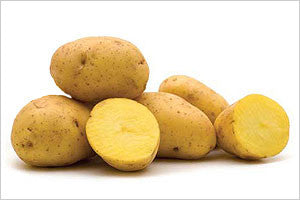 Yukon Gold Seed Potato
$ 8.50
AVAILABLE for Pre-Orders JUNE 2022
If you like your fried potatoes golden brown, Yukon Gold will almost turn that color by themselves. Yukon Gold is also favored by top chefs for making traditional mashed potatoes. With Yukon Gold, your mashed potatoes will be golden and beautiful to both the eye and the taste. When first harvested, Yukon Gold shows unique pink eyes not seen in other yellow varieties.
65+ days, early-season
Excellent keeper
Great mashed or any way you like it
Limited Availability
SHIPS AFTER 6/25/2022
As we ship on a first come, first serve basis, your order may not ship until days or weeks later. You will receive an email when your order ships.


Related Products