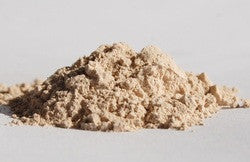 Micronized Azomite
$ 7.50 $ 8.50
Micronized Azomite
Give Plants the Vital Minerals They need to Thrive
Great soil additive for all plants
Azomite rock dust is a naturally mined volcanic rock composed of over 70 minerals and trace elements that are essential for optimal plant health. The rock formation in Utah from which Azomite is mined was formed when volcanic ash merged with sea water. This mixture of volcanic ash and sea water created a unique source of trace minerals and elements that moist soils are void of. Just like humans, plants require many minerals to reach peak health and vigor. Re-mineralize your soil with Azomite and your plants will thank you and reward you!

Using Azomite for Healthier Plants
Directions:
Store in a cool dry place out of reach of children and pets
New Planting for individual plants, mix 2 tablespoons into soil when planting.
Established Plants: Feed seedlings & transplants 10 days after planting and continue feeding monthly during growing.
Herbs: Sprinkle 1 tablespoon evenly under & around each plant
Related Products
Another must have
I used this in conjunction with the root boost and honestly feel the combo is a super charger for my plants..