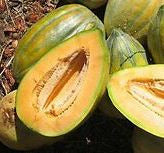 Bidwell Casaba Melon
$ 2.25 $ 2.75
90 days. The Bidwell Casaba melon is a large uniquely shaped melon. This huge variety can grow to be 12-16 lbs. and measure to be 12-15 in. long and 9 in. wide.
The unique Bidwell Casaba has a mildly sweet and delicious orange flesh.

This melon originated in Chico, CA, named after John Bidwell.  Bidwell, was a general in the Civil War and struck it rich in the California Gold Rush. Bidwell later founded the town of Chico, where he planted the original seed stock from the Department of Agriculture on his estate.

Contains 20 heirloom seeds
Related Products