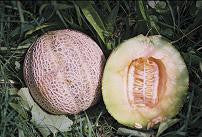 Ananas D'Amerique A Chair Verte Melon
$ 3.00
90 days. 
This historic heirloom was grown by Thomas Jefferson in 1794. It was offered commercially in the USA in 1824, and it was illustrated in color in France in 1854 in the Vilmorin Album. This wonderful variety has become very rare.
The fruit have netted skin and light green flesh that is firm, sweet and highly perfumed. Productive plants can be trained up a trellis.

Contains 20 heirloom seeds
MORE SEEDS for 2024
Related Products
Prolific producer
I have this melon growing and within my 10 day absence where I had to go on a trip, these melons went from flowers to 4 inch sized melons already and they are not even done yet! I have 5 of them growing at the moment and more flowers present. I can't wait to taste them! Mary's heirloom seeds never disappoint!
A Fragrant Treasure
I've been growing these for two years now and these are my all time favorite melon Mary offers! The flesh when ripe smells of pineapple and the flesh is sop juicy and sweet, its surreal to experience! First time i grew them in 5 gallon buckets, second time in a raised bed both with epic results! easy to grow, just give plenty of room and remember when they're ripe they fall off so watch them!