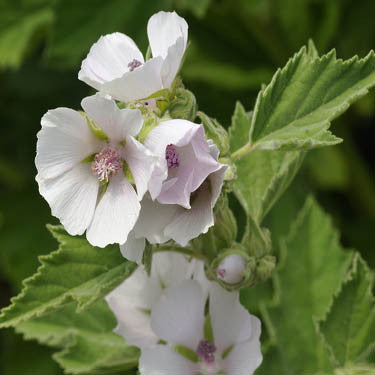 Marsh Mallow
$ 3.00
Highly regarded as a beneficial medicinal herb and has been widely used for the last 2000 years in both foods and in medicines. It is native to Europe but can be found growing in many places around the world. It is easy to grow from Marsh Mallow seeds, and it also makes a lovely flowering display as well as having therapeutic benefits.
It is a branching plant that reaches 36 to 48 inches in height. The stems are slightly wooly and the leaves are soft and downy. The flowers reach 2 inches across, have 5 petals and range in color from white to reddish-white. Hummingbirds enjoy their sweet nectar.
Both the roots and the leaves have a slimy substance called mucilage. When the mucilage is mixed with water, it creates a viscous gel that coats and soothes irritated mucous membranes. It is used for coughs, colds, sore throats, stomach and intestinal conditions. It is also very beneficial when applied to skin abrasions or insect bites.
Contains approx. 50 heirloom seeds
Related Products