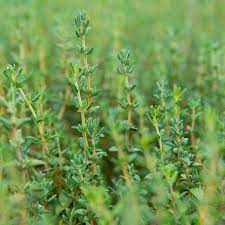 Thyme
$ 2.95
Thymus vulgaris
Also called "Common Thyme" and "English Thyme"

Common thyme seeds are one of the hardiest, most tolerant cultivars of thyme, ideally suited as a classic garden ornamental. Similar to wild cultivars of thyme found growing between mountainous crags and slopes, common thyme seeds are known to thrive in the same poor and sandy soils

Contains approx. 100 heirloom seeds.

Tip: Sow seeds indoors on surface of soil. Transplant outdoors after danger of frost has passed. After first year cut plants back each spring to renew them and keep them tidy. Plants prefer well-drained dry soil.
Related Products