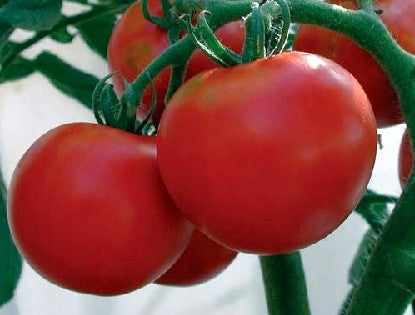 Rutgers Tomato
$ 2.00
75 days. (Determinate)  
The Rutgers Tomato was developed by crossing Marglobe with JTD.  Rutgers produces vibrant red, round tomato fruits on a strong, disease resistant vine. Tomatoes average 2-4 inches across and 2-3 inches high.  The average weight of Rutger's luscious fruit is about 1 pound per fruit.  Makes a great slicer for sandwiches or salads. 
Developed by Rutgers Univ. for Campbell's Soup Company in 1934.


Contains 25 heirloom seeds
Related Products
Sandwich to sauce, a must!
Easy to grow, I weave it into my welded wire fence trellis. Big enough for slicing, firm enough for chopping for salads, and great to make salza and sauces with. A more robust flavor than beefsteak or romas so it is great sliced or sauced for a robust tomato flavor. Produces better than romas here in our hot humid summers. No blossom end rot with these. LUV EM!
Tasty and loves Arizona heat
Rutgers is probably the most dependable tomato I grow. It is a bit thick skinned so resists cracking--an important consideration here in Arizona where it's hot and dry and I tend not to water as regularly as I should. It has great flavor as an added bonus too. Vigorous vines need support. I normally use 4'tall welded wire cages but I think it might do even better on a trellis.