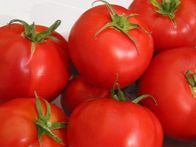 Moskvich Tomato
$ 2.95
60-70 days. (Semi-determinate) Moskvich is a high quality, early season, Russian  Heirloom.
Fruits are round to slightly flattened with deep red color and luscious, rich flavor. Great eaten fresh or processed. Highly resistant to cracking, making it a great pick for the greenhouse. Like most Russian varieties, it can stand up to cool conditions.

Contains 25 heirloom seeds
*NEW ARRIVAL for 2019*
Related Products
Best Tomato for San Francisco
Tried this type in our area, did not disappoint. Sweet, red tomatoes even in SF.
from Russia with love
I will definitely grow Moskvich every year for the rewarding yields and flavor.