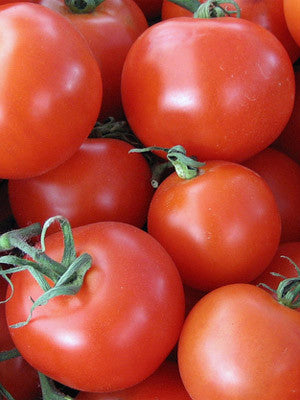 Homestead Tomato
$ 2.50
80 days. (Indeterminate)  Strong semi-determinant plants with big leaves and firm meaty bright-red med-sized globes. 
Known to set fruit under a wide range of conditions making homestead a great all purpose tomato.  
Homestead does extremely well in HOT and HUMID conditions.  This is a great tomato for you Southern growers.  Excellent slicer or canning tomato.

Contains 25 heirloom seeds
Related Products
Drought resistant
I was very nervous this year given the drought conditions we experienced in Western Pa on top of the high UV index. I had planted 10 of these tomatoe plants before the weather turned for the worse. I was amazed that all of them survived. 1 in particular really did great and has produced the fattest tomatoes compared to the other 9. I weighed one which came out to 1/2 a lb. The other 9 plants are still producing and getting big and I can't wait to weigh them. By far, this is a plant you want to grow that can withstand high heat, high UV, and lack of rain.
Small but giant flavor
I have grown these for years in high Colorado desert (irrigation required, 105 temps) and Hawaii rain forest (85 temps, and 140" of rain annually). These tolerate high rainfall, drought, humidity, desert low humidity and still perform as one of the sweetest, low acid best tasting little tomatoes I have grown. Excellent.