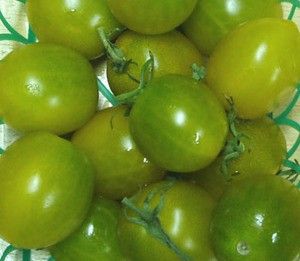 Green Grape Tomato
$ 1.00 $ 2.50
DECEMBER SEED SALE
65-75 days. Indeterminate.

Ripens yellow-green, resembling large Muscat grapes. Flesh and juice are green. 13⁄8 in. fruits borne in clusters of 4-12. Flesh and juice are green.

Excellent eaten right off the vine, as an appetizer or with Macadamia Pesto.
Very easy to grow!

Contains 15 heirloom seeds
Planting Instructions: To hasten germination, soak seeds for 8 to 24 hours.  Seeds should be sown in warm conditions, covered very lightly (depth of ¼ inch) and kept reasonably moist until seedlings emerge.  Transplant or thin seedlings 13-17 inches apart.
Grow in full sun.  Stake or trellis for support.
Related Products