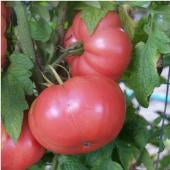 German Pink Tomato
$ 2.95
85 days. (Indeterminate) Plant produces good yields of 1 to 2 lb pink beefsteak tomatoes. They are very sweet, meaty, and flavorful.
Perfect for sandwiches, salads, slicing, canning, freezing, and making paste and tomato juice. It has very few seeds. A potato leaf variety. Crack resistant. Excellent choice for home gardens.
An 1883 heirloom variety from Diane Ott Whealy's family from Germany.

Contains 25 heirloom seeds
*BACK IN STOCK* for 2021
Related Products