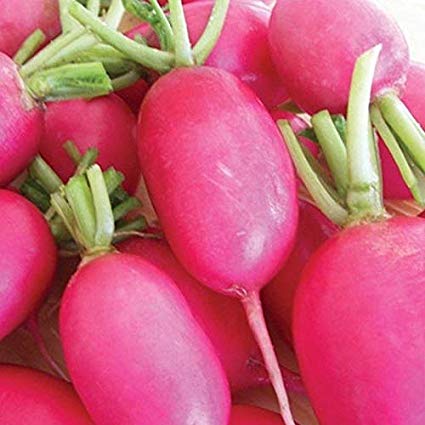 Lady Slipper Radish
$ 2.50
30 days. A new shape and color choice for radish growers; plump, elongated roots that are blunt at the tip with a very small taproot.Attractive soft-pink color. Smooth and elegant in appearance. Pure white flesh is crisp, mild and sweet. Unique flavor.

Holds longer than most without getting soft and pithy.

Contains approx. 100 heirloom seeds
Related Products
Very tasty!
Highly recommend. This is by far the tastiest radish I've ever grown. Not only are they the most beautiful color, they have a milder taste than most radishes. Excellent germination.
Lady Slipper Radish
26 days from planting until harvesting the first one. About 30 days until full harvest here in northeast Mississippi.
These are comparable to the early scarlet globe radishes but to my taste are a bit sweeter and with just a bit less spicy bite. And of course they are a nice pink color. Overall a very nice early salad type.
The greens are full and tasty with not as much pest damage as some of the other varieties planted in the same bed/row.
A very nice early radish. Give them a try!