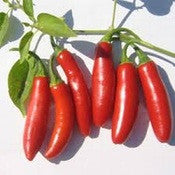 Serrano Pepper
$ 2.00
75 days.  Large plant bears club-shaped fruit, very hot and pungent with a distinctive flavor. 

Serrano peppers are around 5 times spicier and hotter than jalapeno peppers at a fairly hot 10,000 – 20,000 scoville heat units on average.

Contains 25 heirloom seeds
Planting Instructions:  Seeds should be sown in warm conditions, covered very lightly (depth of ¼ inch) and kept reasonably moist until seedlings emerge. 
Grow in full sun. Great for containers.
Related Products