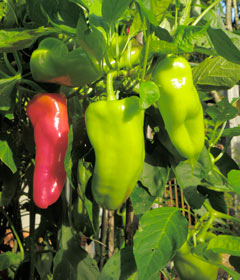 Cubanelle Pepper
$ 2.50
85 days. Cubanelle Pepper is a variety of sweet pepper commonly used in Cuban, Puerto Rican, and Dominican cuisine.
Famous for delicious fried or stuffed peppers.
Sweet frying pepper, 4.5-6 inches long x 2-2.5 inches in diameter, 3 lobes, tapers to a blunt end, slightly irregular and roughened, medium-thick waxy flesh, yellow-green to red, distinct flavor.
Cubanelle peppers are also known for their unique, imperfectly curled, wrinkled, and twisted shapes
Fantastic addition to Homemade Salsa!

Contains 25 heirloom seeds

*NEW ARRIVAL for 2019*
Related Products
Great germination and fast growth
I planted these with my Daycare kids. We started them inside last season and had wonderful germination. They produced well considering they were not cared for on a regular basis. We have them again this year and same germination results. We have shared them with others and all seem to be growing wonderful here in Iowa.