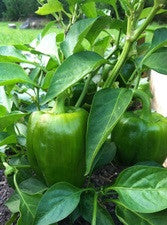 Cal Wonder Bell Pepper
$ 2.50
70 days.  An excellent green bell pepper of nice size and very good yield. Upright 2 ft tall plants bear prolific fruits that are 4-5" long and almost the same width across. 
A long growing season, high-quality fruit, and sweet flavor have resulted in California Wonder Bell Pepper becoming one of the most popular open-pollinated bell peppers for both home and market growers.

Contains 25 heirloom seeds 
Planting Instructions:  Seeds should be sown in warm conditions, covered very lightly (depth of ¼ inch) and kept reasonably moist until seedlings emerge.  
Grow in full sun. Great for containers.
Related Products
Best Bell Pepper ever
California Wonder and Yolo Wonder are the easiest to grow, best tasting and longest lasting bell pepper I grow. I'm in NW AZ at an elevation of 3750' and soils here are caliche, highly alkaline and the climate is dry as a dessicated bone. I use drip irrigation and California Wonder never fails to produce oodles of excellent bell peppers. They taste great raw in salads or cooked in any dish--my personal favorite being Philly Cheesesteak sandwiches. You can't go wrong with California Wonder.