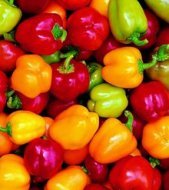 Baby Bell Pepper Mix
$ 3.25
90 days. Miniature one inch size red, yellow and brown bell peppers with sweet firm thick flesh. Sets many tiny peppers on twenty four inch plants.
This colorful mix of dainty bell peppers is an old Ohio family heirloom.  Easy to grow and super sweet.  Excellent for stuffing!

Contains 15 heirloom seeds

Back in Stock for 2022
Planting Instructions: Seeds should be sown in warm conditions, covered very lightly (depth of ¼ inch) and kept reasonably moist until seedlings emerge. 
Grow in full sun. Great for containers.
Related Products
Lot's of little peppers!
As soon as we started getting cooler nights the plants and blooms were ready to turn on and grow like crazy. Im waiting for the peppers to change color. The plants are grown in a raised garden at the top of my roadside garden. The colors will be pretty when everyone drives by