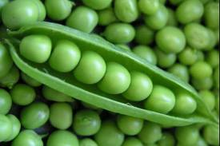 Thomas Laxton Pea
$ 2.50
65 days.  Any pea that was introduced over 100 years ago and is still widely grown should tell you volumes.  Reliable, consistent, and sweet are just some of the words used to describe this pea.

This pea carries Thomas Laxton's name, but was breed by his sons William and Edward Laxton Brother's and named in honor of Thomas' contribution to horticulture and plant breeding. Thomas Laxton died in 1893 and the pea first appeared in 1898.  

Contains 30 heirloom seeds
Related Products
Excellent producer
I planted 100 of these peas and yielded 3 lbs shelled. Since growing these the past few years I haven't had any issues. They are very low maintenance and easy to grow.
Very impressive in all regards!
I purchased Thomas Laxton peas with two other varieties to compare their production for future growing. The other varieties planted were Green Arrow (also purchased from this company) and Little Marvel (from another company). Germination rates for this variety were very good (above 90%), which significantly outperformed the Green Arrow (40% germination), and matched the Little Marvel (also 90%). The plants themselves grew to an impressive height of 6' tall, which is taller than both other varieties (2' and 5' respectively). The yield for a 30' foot row was also superior at 8 pounds compared to 14 ounces and 5 pounds respectively. Thanks to Thomas Laxton peas, I have lots of peas in my freezer to provide my little ones with healthy snacks for weeks to come! I HIGHLY recommend this variety.