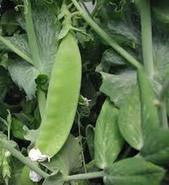 Oregon Sugar Pod Snow Pea
$ 1.50 $ 2.50
Produces a huge number of 4" delicious pods which are harvested and eaten when the pods are flat, before the seed forms. Short, 28" vines easy to manage. resists mildew, pea virus, and common wilt.
Excellent freezer variety. Grow on a trellis.

Contains 25 heirloom seeds
Related Products
An excellent Snow Pea
I love the flavor of Oregon Sugar Pod Peas. If they were just a bit more productive they'd give Mammoth Melting a run for my favorite. As it is they taste so good I grow them every year. They are easy to grow here in Zone 8b. They are more compact than Mammoth Melting and as such might be better for a smaller garden, but like all peas they need a trellis for pea fence to do their best. I think the main reason pea fence is so important is that it keeps the vines more open, allowing better ventilation and helping to prevent pea enation virus or mildews from forming and spreading. It also makes it easier to find the peas as they develop.