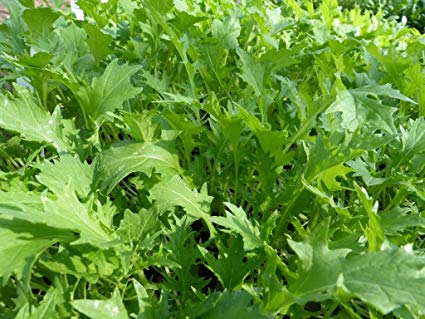 Mizuna Mustard Greens
$ 2.50
40-60 days.   A hardy Japanese non-heading type mustard that is extremely vigorous and cold tolerant.
Mizuna grows in bunches and has long stems growing from a central stalk. The dark green leaves have deeply serrated edges and have a fringed appearance. The thin, white stems are firm and offer a crunchy texture. Mizuna is harvested at both the baby lettuce and mature stages, with the younger leaves being more tender and milder.
Excellent for braising or cut to eat at 3-5" for salads. Very slow to bolt.
Contains 100 heirloom seeds
Related Products
Easy to grow, tasty
I planted this mizuna in late October in zone 8b. It sprouted quickly and became vigorous soon in my fabric pot with frost cover. When harvesting, I left 1-2 inches of its stems from the ground and new leaves came back again in short period of time. I've been enjoying mizuna throughout the winter. My favorite is to eat it raw as salad and in spring rolls. So good!