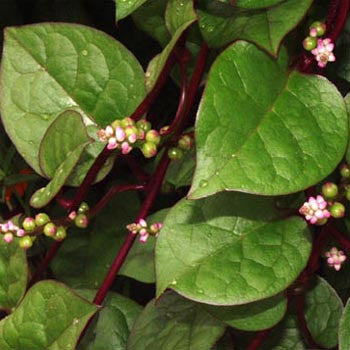 Malabar Spinach
$ 3.00
85 days. Basella rubra 
If you are looking for a different flavor from traditional spinach, then this gorgeous combination of deep green leaves set against burgundy stems and violet blooms will be perfect in your herb garden. Edible leaves grown from Malabar Spinach seeds can be used throughout summer and will flourish in heat and humidity. Young leaves of this herb plant can be cooked and added to recipes and fresh leaves make a great salad. Climbing to 10 feet or more, Malabar Spinach is a lovely vine for trellises and arbors. It is also commonly referred to as Climbing Spinach Vine, Red Vine Spinach or Creeping Spinach. The Malabar Spinach herb is one of the very few garden herbs that is a vining plant.
Contains 20 seeds
Related Products
A growing powerhouse! I've got an archway with your name on it!
High level of seed germination
Took a couple weeks, but most if not all seeds coming up. Easy to tell as little stems are red. Looking forward to trying this one.