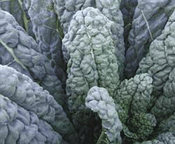 Lacinato Kale
$ 2.50
60 days.
Also called Nero Di Toscana Cabbage and Dino Kale.  This loose-leafed cabbage dates back to the early 1800's at least. It has beautiful, deep black-green leaves that can be 24" long.

They are heavily savoyed. This Italian heirloom is popular in Tuscany and central Italy for making fabulous soups and stews.

Contains approx 200 heirloom seeds
MORE SEEDS for 2024
Related Products
Great at a mile high!
This grew like gangbusters here in the zone 5 high country. Great taste, not bitter, not fibrous. Our go-to kale now! Will be growing again this year.
Tough and Hardy Kale! Sweet and Delicate Taste
Sometimes growing greens in Florida can be tricky as the sun can really punish them. However, this Kale stood the test of weather! It bore a ton of greens and leaves and didn't stop until I let me garden overgrow for the new plantings after about a year. The greens tastes awesome too. I ate them raw or lightly sauteed and they had a sweeter, less bitter taste than the curly Kale and much better than any store bought Kale. Easy to grow too!