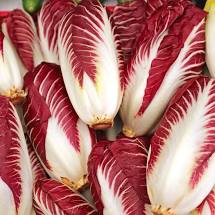 Endive, Red Treviso
$ 2.25
65 - 100 days. Cichorium intybus
Chicory / Radicchio, Early variety. Also called

Radicchio 'Rossa di Treviso'
Leaves are green in the summer and gain dark red color in cool weather.
Leaves are typically red with white stripes and stems when they are harvested.
Outer leaves are typically ready for harvest after 70-100 days depending on environmental conditions. Harvest heads when they are fully firm by cutting them 1-2" above the soil.
Contains approx 100 heirloom seeds
Like rhubarb, chicory can be 'forced' by removing mature roots to a warm, dark place in order to coax them into rapid and early growth.
Chicory is harvested for chicons about 130-150 days from planting when the roots are large enough to be forced, which is generally from September through November.
The beautiful brilliant red/white radicchio like Treviso or Palla Rossa, are often 'forced'. Forcing means in the fall you dig up the plant, cut off the head, cut the root back to 10-12 inches and replant it in a pot, usually filled with peat moss. Cover it with a pail, black plastic, etc. to keep out light and let it regrow at 50-60 degrees (a basement works well).  In two weeks or so, you will have new growth which is bitter/sweet and has that beautiful contrasting color of white stems and red leaves.  Of course, you do not have to force your chicory. Just grow it and enjoy it.
Related Products