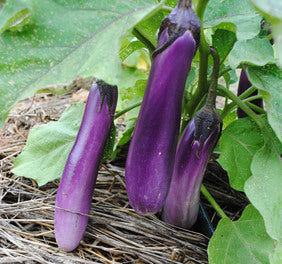 Ping Tung Long Eggplant
$ 2.50
65 days.  A wonderful heirloom eggplant from Ping Tung, Taiwan. A non-stop producer of fruits that are up to 18" long and 2" in diameter. Never bitter. No skinning necessary. Very dependable, even in Zone 9 heat.
Eggplants prefer rich, deep, loose soils with large amounts of organic material. 

Contains approx. 20 heirloom seeds
Related Products
Amazing
So I grew these for the first time this year in central Florida and let me tell you they have been so productive. Even through the 3 months of no stop rain. Even into September these are still growing strong. I highly recommend these.
Amazing!
This is our first year using Earthboxes, and we tried this variety of eggplant. It has been such a prolific producer! It even handled our strange weather this winter from almost freezing to 90+ fluctuations in West Central Florida (9b). One plant produced enough for multiple families for well over 4 months. It is just now starting to wind down as our temps start to climb. The fruit itself is delicious! Better tasting than normal globe eggplant and easy to use since it does not require skinning. Highly recommend this one! Will be planting more next fall/winter.