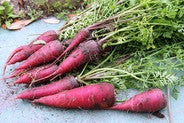 Cosmic Purple Carrot
$ 2.50 $ 3.50
*SEED SALE*

70 days. 
This one is causing excitement at farmers' markets. Carrots have bright purple skin and flesh that comes in shades of yellow and orange. Spicy and sweet-tasting roots are great for marketing and a delicious addition to any meal!


Contains approx 100 heirloom seeds
Related Products
Yum! Will order again.
These carrots are very good and they're purple. They have a mild taste and their foliage leaves are great in salads. I had no issue getting them to germinate and my kids love them. This one has become a must in my household.