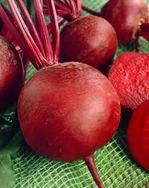 Detroit Dark Red Beet
$ 2.00
55 days.  The most popular, all-purpose, red beet with flesh that is sweet and tasty.  Uniform 3" round roots are smooth.
14-inch tops make good greens.  Heirloom varieties introduced in 1892. 

Contains approx. 100 heirloom seeds
Planting Instructions:  Seeds can be sown in cool or warm conditions, covered very lightly (depth of ½  inch) and kept reasonably moist until seedlings emerge. 
To hasten germination, soak seeds for 8 to 24 hours before sowing.
Related Products
Best beets
I have grown up planting ,growing Detroit dark red beets .I would help my grandma when I was a kid ,digging her large garden and I would plant the seeds .we always grew Detroit dark red ,they where the best beet for beet pickles .They are so sweet and tasty. I grow them now in my own garden every year. I even pick the leaves to cook when they are young or older ,they are better than spinach ,for me anyway.leaves and stems. Good gardening everyone , HAVE FUN IN THE SUN.
Best ever!
These are my go to beets for many years now. Easy to grow, excellent harvest. We eat them all summer and then i can them in October before the first frost so we have a taste of summer all winter long!
Easily the best beet
Detroit Dark Red is a beet I plant every year without fail. Here in NW AZ growing conditions are tough, with very little rainfall, high winds and alkaline soils. I built raised beds and installed drip irrigation and that solved most of my growing problems.
I like the flavor of Detroit Dark Red as well as how hardy it is and how long it lasts in my fridge after being harvested. They are also very good when canned. I cut them up raw in salads, cook them up as Borsht or simply as a side dish veggie. They are very productive and resistant to disease, and are hands down my favorite beet as they are somewhat sweet.
Dependable and Delicious
Detroit Dark Red is my go to beet. I plant it every fall and spring and it never fails to deliver a good crop. As a rule I prefer beets cooked but Detroit is also good in salads. I allow the best plants (just one or two) that I planted each fall to go to seed (which they do the following Spring) so I can save the seeds for the next planting.
Great seeds
I bought these seeds off of here and they have done exceedingly well this year. About 100 percent success rate with the seeds and an excellent crop of tasty large beets.