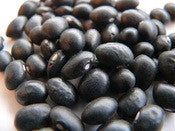 Henderson's Valentine Black Bean
$ 2.75
50-55 days. Introduced in 1897 by Peter Henderson & Co., this excellent fresh snap bean has tasty pods. Also makes a fine dry soup bean. Great yields! A perfect all-purpose bean! 

Contains 20 heirloom seeds
Related Products
Best Black Beans for Drying
These are a tasty dual purpose bean. They produce mild flavored and tender fresh green beans. But they really shine as a dried beans. Henderson's Valentine Black Beans hold their shape and don't turn to mush in the soup pot. These black beans are very productive and no disease problems.