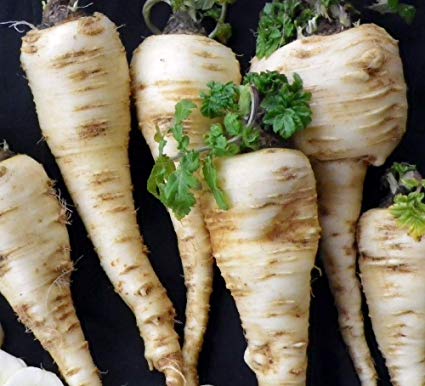 Harris Model Parsnip
$ 2.50
95-120 days. Sweet, tender, bright white roots.  Harris Model Parsnip grows about 10-12 inches long with 3½ in. shoulders.
For better performance, grow in raised beds, especially in heavy soils.
Parsnip is a root vegetable related to the carrot. Parsnips resemble carrots, but are paler in color than most carrots, and have a sweeter taste, especially when cooked.

Contains approx. 200 heirloom seeds
Related Products
Parsnips are easy
I read things that said parsnips can be tricky to germinate. After a week in a moist paper towel in the fridge I took them out and forgot about them for a day or two. Turns out not very difficult to germinate. Need to get a lot of seeds in ground now fast so relatively high rate of germination. Based on how many have little roots showing I will probably plant them further apart then what some people recommend. So very high germination on these seeds (90%+).