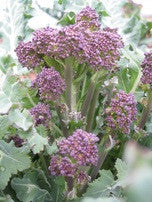 Early Purple Sprouting Broccoli
$ 2.50
60 days.  An English heirloom variety, bred for overwintering. Produces lots of purple broccoli sprouts in the spring. Grows slowly through the winter; very frost hardy.
A great variety that is very hard to find!

Contains 100 heirloom seeds
Related Products
Great germination
Excellent germination rates and a pretty plant. Very purple from the outset and fast growing.