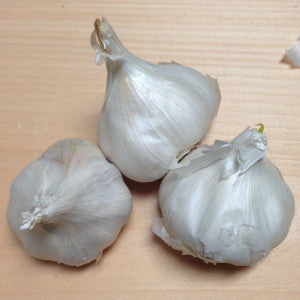 California Early White Seed Garlic
$ 8.50
*PLEASE READ before placing your order*
Our favorite variety of garlic and it's EXCELLENT for beginners.
California Early White has a semi-rich flavor that is hot but not "crazy hot."
An early maturing variety, this variety is suitable for most climates and very prolific.
Bulbs are about 2 inches in diameter or larger with approximately 12 to 16 cloves per bulb
Please purchase additional items in a separate order. 

 

All orders containing SEED GARLIC will ship TOGETHER on/after October 5th depending on your order status.
We are unable to ship our garlic outside of the United states.
Cannot ship to the following states: HI, PR, VI, ID, GU.

Related Products
WOW
So I have heard so many story about how hard it is to grow garlic in florida well with Mary's garlic you don't have to worry. I plant my garlic back on November 1st and I pulled my garlic a few days ago and WOW. I got 45 very nice size heads of garlic. When fall comes along get your hands on some. You will be glad you did. I can't recommend Mary's seeds enough. I have honestly stopped getting my seeds from the bigger seeds stores.