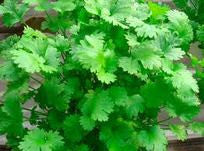 Cilantro, Slow Bolt
$ 2.50
Popular in Mexican cuisine, this herb is a must for all salsa and chili recipes, delicious and flavorful.

Contains approx. 150 heirloom seeds

Tip: Cilantro growing in soil that reaches 75F will bolt and go to seed. This means that the ideal cilantro growing conditions are cool but sunny.
Related Products
Cilantro
I didn't know cilantro would bolt so quickly in hot weather! Great information thank you!