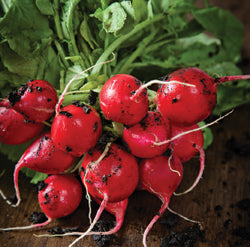 Cherry Belle Radish
$ 2.00

Plant about every two weeks for a continuous harvest until about June when it becomes to hot.  Resume planting again September.  Cherry Belle over winters here in the West Coast.  We use the tops to feed the chickens.

Contains approx. 100 heirloom seeds
Related Products
Quick and easy
If you are looking for a fast producer this is it! Super easy to grow
Easy, fast grower!
I ordered these seeds in August before our baby was born, so they were just planted in the ground along a drip line and completely forgotten about! A few weeks later we were pleasantly surprised with a delicious harvest! Very easy, quick crop that doesn't seem to need much oversight. Delicious salad addition.