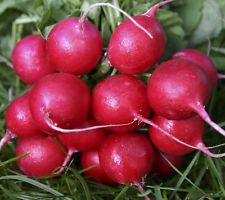 Champion Radish
$ 2.00 $ 2.50
28 days.   Smooth, round cherry red radishes in only 28 days.

Champion radishes don't get hot or woody when they reach maturity like other radishes can.
This radish retains a crunchy snow white interior that is sure to please.
Don't forget to replant every two weeks for a continuous crop. We use the tops to feed the chickens.

Contains approx. 100 heirloom seeds
Related Products