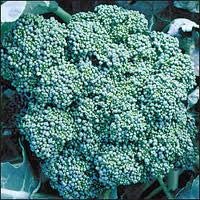 Calabrese Broccoli
$ 2.00
48-60 days. (Brassica oleracea)   An Italian heirloom that was brought to America in the 1880s.
Calabrese is usually the one you find in your local market! Plant Calabrese broccoli seeds in a sunny spot with properly drained soil.   Deep green heads can grow up to 8 inches in diameter.
Contains approx. 100 heirloom seeds
Planting Instructions: Seeds can be sown in cool or warm conditions, covered very lightly (depth of ¼ inch) and kept reasonably moist until seedlings emerge. 
Transplant or thin seedlings 6-12 inches apart.
Can be grown in containers.
Related Products
Superb broccoli
I grow Calabrese and De Ciccio broccoli every year and while both perform admirably here in bone dry NW AZ, I like the flavor of Calabrese slightly better than De Ciccio. Don't get me wrong. Both are very good and De Ciccio typically out-produces Calabrese but taste is a highly personal thing and for me Calabrese is best. Both are equally easy to grow and even a single plant, if left to bolt, will overwhelm you with seeds. I usually plant garlic and onions in among my broccoli as they repell aphids and other pests and enhance the flavor of my broccoli.