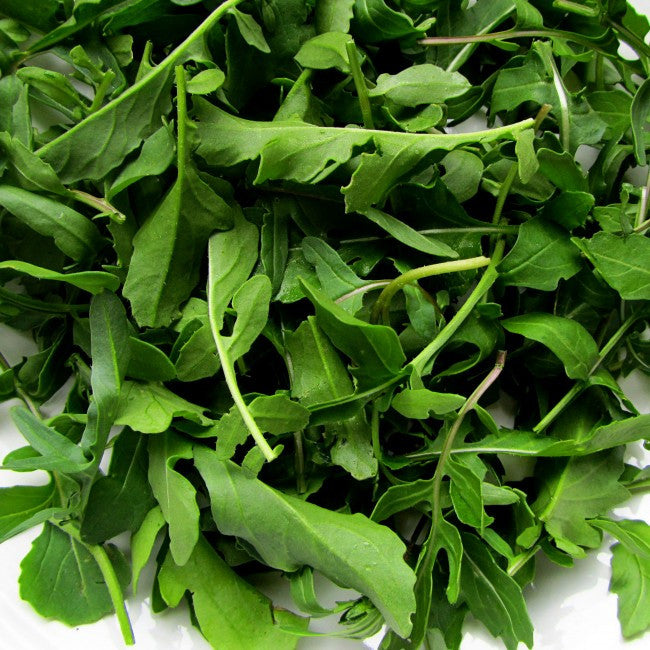 Arugula "Roquette"
$ 2.00
40-50 days.  Eruca vesicaria ssp. sativa 'Rocket'
The entire plant may be harvested, or individual leaves may be cut from the plant. Leaves give a sharp, spicy, pungent, peppery taste, similar to horseradish, in mixed salads, complementing both bland butterhead lettuce and bitter chicories. Best used raw in salads and in tomato dishes when the serrated leaves are only two to three inches long. It can be steamed, cooked as a potherb, or pureed and added to soups. Harvested leaves can be frozen for later use, similar to spinach or other greens.            

Contains approx 100 heirloom seeds
Related Products
Good grower
I'm zone 9b Nor-Cal, planted 10-3-22, great germination (near 100%) grew quickly in cool weather, 30°-60°F, great taste, kinda nutty flavor, will buy again👍🏻
It sprouted
beautiful, and tasty but it went to seed fast ,it was my first year growing it ,my family enjoyed it
Sprouted very quickly
New gardener here. Tried to sprout this arugula to have as a cooking green and also add raw to salads. Unfortunately my timing was off and I killed them but I was very surprised to see that they sprouted only in 2-3 days of planting into coco coir. Have plans to try them again in for a fall harvest.
Its Growing
Very happy with this purchase. The seed/plant is growing. I'm going to purchase another one for my friend because she loves arugula.
Spicy and yummy!
My moms absolute favorite so I always have some sprouting for her. These seeds did not disappoint and according to her they were the best flavor so far! Easy to sprout/grow, hardy plant, bounced back Just fine after being ravaged by pests.