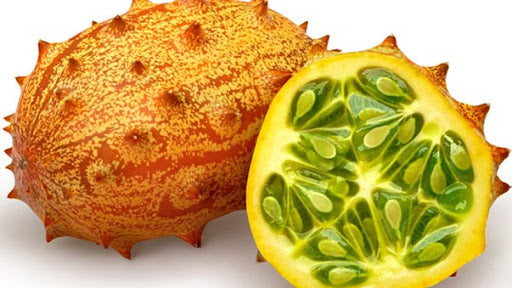 African Horned Cucumber
$ 3.50
120 days. (Cucumis metuliferus) Also known as Kiwano or Jelly Melon

Very unusual fruit with spiny "horns." The green-yellow skin turns a bright deep orange when ready to harvest, and the pulp inside the fruit resembles lime green Jell-O.  Native to Africa, it is hardy and easy to grow; can be grown just about anywhere you can grow melons. Beautiful vine and fruit! Tiny seed.
Its fruits have a flavor reminiscent of pomegranate and citrus and are high in vitamin C.

Contains 15 heirloom seeds
Related Products
Super fun!
These were great to grow with the kids! Two plants covered a 7-foot trellis and then some, and they were very prolific producers! We took these to Halloween parties, and they were a hit! The taste of the fruit is very good, and it's just all around a fun experience. The plants are pretty prickly, as well as the fruit, so wear gloves/long sleeves when messing with mature plants. But as a plus, the deer around here didn't want to mess with them! I'm not sure if that was luck or the prickles. We will grow these somewhere this year for sure.