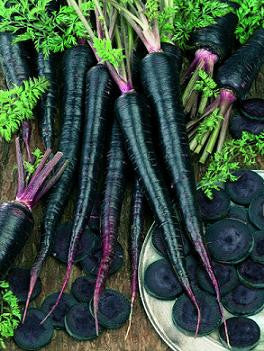 Black Nebula Carrot
$ 3.95
75-80 days. Incredible dark purple, almost black colored carrot. The color reaches throughout the root. Roots are 9-10 inches long and tapered. Best when eaten young or roasted, color does not blanch when cooked. These fruits remain purple after cooking. During the spring consider using the roots for egg or fabric dye. When these carrots become to large to eat, let the plants bolt and use the purple colored flowers for cutting. The stems are also purple and attractive.
Contains approx. 100 heirloom seeds
Carrot has long been known as an orange vegetable. Generations of people in the West have grown up believing that carrots have always been orange. But long before the Orange carrot became established in the 16th century,  the black carrot (Daucus carota ssp. sativus var. atrorubens) existed across in Asia and the eastern Mediterranean.  Black carrots are still grown and consumed in Eastern countries such a Turkey, Afghanistan, Egypt, Pakistan India and the Far East
Related Products
Family favorite
It's fun to pull black carrots up and the interesting rich flavor. They were demolished quickly by the family. Will be ordering more. Also grew faster than our other carrots so lots of fun.
Great grower!
Planted these with tender sweet and white carrots and these grew better than all the others. Unique carrot and tasty, planted late season and did well into fall.
Black Nebula
This carot has the best flavor of any carrot I have ever had. They are beautiful on your plate and even more mixed with other colors of carrots. You will want to keep them all for your self. Excellent nutrition because of the dark purple color.